Five Reasons Photographers Hate Dealing with Cheap People
I really hate dealing with cheap bastards, especially when it involves them paying me for my services. Even during a good economy, people whine poverty when it comes to paying.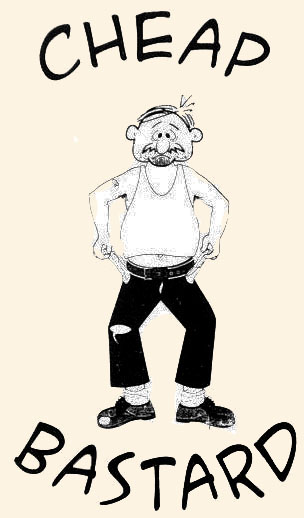 Now, I'm going to give you five goddamned reasons on why photographers hate dealing with cheap bastards.
1. Cheap people hate spending money, but they damned sure demand a lot. For this one club, they not only wanted me to spend three hours in the spot. They also wanted me to put their logo right along with mine on the digital pictures, something that took hours. How much was I getting paid for this? I'm too embarrassed to say. I'll just say what they paid me didn't add up to all the time spent on the photos.
2. Cheap people are always the ones telling people how much they're willing to spend. You don't set the damned price. The photographer does. If you can't afford a photographer, learn the craft yourself and take your own fuckin' photos.
3. Cheap people don't realize drinks don't put gas in your car. This one usually goes like this. You take photos for an event and/or bar. Yet, how does the person decide to pay you? Drinks.
Boy, am I glad digital photography was invented. Folks buying me drinks never covered the price of buying film, printing the photos and plus all the gas used going from place to place.
Even when printing from digital, drinks never covered the expenses.
4. Cheap people will attempt being even cheaper. That club I used to photograph for? They hired a marketing guy. One of his duties is photographing the nights I used to photograph. Being a cheap, they got a two for one deal, a photographer and marketing guy all in one.
5. Cheap people don't respect the craft. It burns my ass when people think a photographer can easily be replaced. This isn't just about photography. This is about any craft. The cheap bastard doesn't realize the years the photographer spent learning their craft. They can't comprehend the photographer who knows how to handle different lighting conditions. They can't comprehend the photographer who knows how to deal with people, an art itself. No, the cheap bastard is too busy focusing on how to low-ball the photographer.
After all this, sometimes, the cheap people receives what he or she deserves. That guy the club replaced me with? I saw his photos on the website. They suck. No, I'm not saying this out of jealousy. They really do suck. Some have a strange brown tint on them. Others have a strange blue tint. To give him some credit, he might improve. Still, after I greatly improved my photos with these folks, this is what they pull. They replace me with someone who does shitty work.
Now, you know why photographers hate cheap bastards, they are extreme pains in the asses.